Commercial Flat Roofing Contractors
Commercial Property Flat Roof Repairs

The Moriches Roofing Company offers a variety of commercial roofing services to meet your needs, roof leak detection, Emergency roof repair, and roof inspection and maintenance.
We understand the value of your investment, and do our utmost to ensure the best quality repair job at the best possible price, in the shortest amount of time.   That's a tall order and, it's one that we live up to, time and time again.
We offer quality commercial roofing services including commercial roof replacement and inspection services. We provide your business with the highest-quality roof materials, workmanship and customer service in the area.
Commercial Roofing Contractors in My Area
Our experienced, skilled commercial roofer repair, replace or construct commercial roofs for buildings that use the same types of roofing materials as residential projects on pitched roofs and completly different materials on flat roofs.
Our commercial roofing services are driven by the latest technology and utilize the most advanced roof management practices available today.
Whether you need commercial roofing inspection and diagnosis, maintenance, repair, or replacement, you'll be working with a company that is knowledgeable about the latest technologies, and we'll also educate you to ensure that you get exactly what you need.
Moriches Flat Roof Repair
We offer installation, repair, and maintenance services for:
• Roof Leak Detection we use all the latest technolgy availabe to us to find leaks and that enables the repair to be limited to the exact area of roof failure. Saving us time and saving you money.
• Emergency Roof Repair If you have a leak and it is causing an emergency situation. We understand that our response must be timely.

• Roof Care & Maintenance Roof surveys on a regular basics will help avoid roofing failure. with a proper maintenance program expensive roof replacement can be avoided for many years. Don't wait till you have a problem to maintain your roof.
Ventilation Work Properly Vented Roof Will add Years to the Life of Your Roof
  .
Flat roof ventilation allows for the circulation of air in the property, particularly for warmer rooms in residential buildings. … When thermal insulation is placed below the deck, the ventilation must also be on the underside. In the instances where a warm flat roof has been laid, ventilation isn't usually required.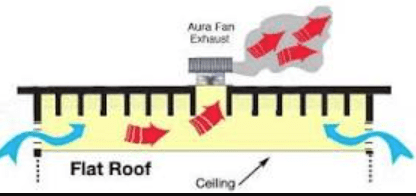 Commercial Flat Roofing Methods
Spray Polyurethane Foam Roofing Systems
Reduced ponding due to unique roof designs and various application thicknesses to create a positive slope and improve drainage.
Reduced leakage due to coverage around seams, penetrations, parapet walls, HVAC curves, vents and skylights. Polyurethane foam roofs eliminate the need for counter flashing.
TPO Roofing Thermoplastic Polyolefin is a single-ply roofing membrane that is one of the fastest growing commercial roofing systems on the market. TPO roofing systems are made up of a single layer of synthetics and reinforcing scrim that can be used to cover flat roofs.
PVC Roofing PVC roofing or polyvinyl chloride is a single-ply roofing solution used on commercial or industrial roofs that are flat or low sloped. PVC or polyvinyl chloride, is the third-most widely produced synthetic plastic polymer.PVC flat roof membranes last 20 years plus
Tar and Gravel Roofing 
Gravel is an excellent fire retardant. Also, a tar and gravel roof is very rugged and safe to walk on. A tar and gravel roof will generally last around 20 years, although if they are well maintained and properly installed, this kind of roofing has been known to last almost 40 years.
Tar and gravel systems are installed by alternating layers of asphalt or tar and supporting fabrics directly onto the roof. Tar and gravel roofs add substantially more weight to the building structure.
EDPM Roofing 
EPDM is an extremely durable synthetic rubber roofing membrane (ethylene propylene diene terpolymer) widely used in low-slope buildings in the United States and worldwide. Its two primary ingredients, ethylene and propylene, are derived from oil and natural gas
Modified bitumen roof systems can be installed with the common torch method, asphalts, or cold adhesives. A standard SBS modified bitumen roof system is a two-ply system applied in rolls that overlap the edge of the previous roll.
Fabricated Reinforced Ply System Roofing A fabric-reinforced ply system combines the leak-resistant seamless membrane of a liquid-applied system with the toughness and strength of a single-ply system. The reinforced fabric gives extra strength to the finished watertight coating membrane without adding significant weight. With its reflective, energy-saving white topcoat, your finished ply system stands up against all tough weather conditions and offers strong, long-lasting protection.
Gutter Replacement where needed.
Moriches Commercial Flat Roofing Contractors
The benefits are:
24 hour emergency service
Efficient, fast, and affordable
All work guaranteed
Wide service area
Whether you need repair, installation, maintenance, or a complete build for a new construction project, call us at: (631) 866-5246 for all your roofing questions and a quick, free, no obligation quote.