Commercial Roofing Materials
types of commercial roofing materials
Commercial roofing material has a broad variety of materials. With so many different types of building services. No one product is right for everyone.
Choosing a roofing company that does commercial roofing is familiar with all the types of roofing on the market and has years of experience and training to install the type of roof your building requires. 
While being respectful of your business and not disruptive. Many roofing companies offer special services to commercial property owners, such as clearing out the parking areas and clearing away any obstacles so your business can continue uninterrupted.
You have many options when it comes to roofing your commercial property. Your local weather and cost will all play a role in the selection of the right roofing material.
Asphalt Commercial Roofing Material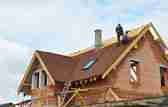 Asphalt shingles are the most used type of roofing shingles, both for residential and commercial purposes.
Asphalt shingles are strong enough to last up to two decades, if reinforced with fiberglass, wood fibers or other organic materials. 
Asphalt shingles can also be laminated, but they come in more colors and textures than asphalt shingles. Luxury or premium shingles are larger than the other asphalt shingles and are made to look like slate.
Metal Commercial Roofing Material
Steel, Standing Seam and Copper are some of the most common metals used for roofing.
Metal roofing can last for 30-50 years if professionally installed. They are also significantly more affordable than asphalt shingles.
 Although they can withstand extreme weather, this type of roof material is susceptible to dents. Cooper, which is more costly than aluminum is an alternative. Copper roofs can last for up to 100 years. Copper roofing is a luxury option and will raise the cost.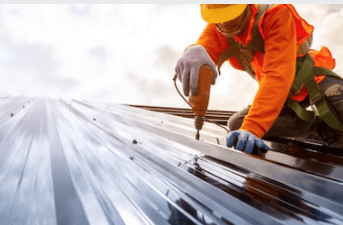 Wooden Shakes Roofing Material
For commercial roofing, Cedar is the best choice for wood shakes.
 Wood shakes can cost up to half the price of slate and some other types of roofing. It is much more difficult to mount slate shingles.
 Slate shingles are fragile and can be a beautiful addition to any building.
Traditional wood shake roofs are attractive, natural, and expensive.A wood shake roof is easy to repair if a shingle is damaged, but because of wood's natural properties, it requires a lot of maintenance. Unlike synthetic or man-made materials, it will break down faster, requires treatment to resist insects, can grow mold, and poses a greater fire risk than other materials.
Concrete Tile Roofing Material
Another material you should consider concrete tiles for commercial roofing.
Most tiles are made of clay, concrete, and rubber. Concrete tiles can be more costly than clay tiles, but are equally durable and perform well.
You might require additional structural support to your roof because tiles are heavier than other roofing materials.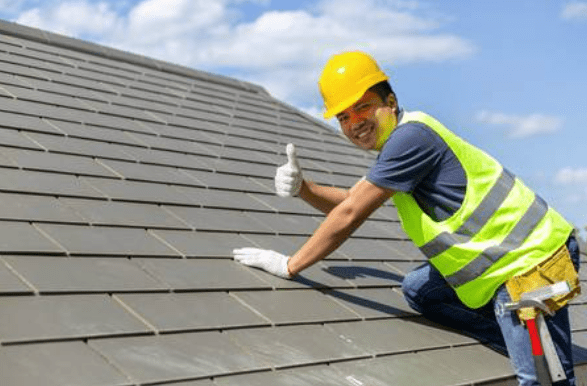 Flat Roofing Materials will be covered in my next blog post.